The CX Industry's Leading Business Directory
The CX Industry Business Directory is an industry-funded service with a simple aim to help people quickly find and connect to solution providers for their customer experience, contact centre and customer service related needs.
No fluff, no referral fees - just a robust, reliable and easy to use Business Directory that lists all the suppliers providing technology, consulting, training, recruitment, outsourcing and so on to help businesses operating in Australia and the wider Asia-Pacific region.
If you're looking for suppliers...

Whilst there are companies that specialise in lead referrals like a broker service where they can find and recommend suppliers for you (we also offer this free service ) for many customers, they like to find suppliers on their own terms and in their own time.
That could be by compiling your own list of businesses to issue a Request for Quote or Request for Proposal (RFQ/RFP), just finding a local supplier near you or perhaps you just want an easy way to find suppliers that provide the product or service you need so you can reach out directly to them or do you own research first.
Whatever the reason, our CX Industry Business Directory enables you to connect to companies you choose, without any sales pressure or bias (perceived or otherwise), without any obligations to speak to someone, fill out a form or provide your phone number, email address and so on.
Our CX Business Directory is simply designed to make it quick and easy to help you find suppliers that can provide exact solutions to the challenges you are facing 24 hours a day, 7 days a week.
There is no cost to use this service - the website is provided as part of CX Central and by businesses paying a small fee (starting at just $47 AUD per year) to list their business.
If you provide solutions...
For over 6 years we've been helping customers connect quickly to suppliers that can help them with customer experience, contact centre, administration, BPO and customer service related requirements.
Our categories, sub-categories and powerful search tags are all designed to make the process easy for customers to find suppliers - whether people are browsing on our CX Industry Business Directory already, using the resources on CX Central or if they are searching directly for solutions in Google.
So whether its contact centre technology, outsourcers and BPOs, recruitment agencies, virtual assistants, consultants and lots more - it's a great opportunity to create high-quality leads for your business.
CX Directory Quick Facts:
About our Traffic
As well as building a loyal base on CX Central over the past 10 years where we actively promote the CX Directory, over 50% of our traffic comes directly from Google with our strong search results ensuring the CX Directory categories and powerful search tags are appearing on the first page of the Google search page.
Why is this important? Because today 93% of online experiences begin with a search engine and 75% of users never scroll past the first page. And even when they are on the front page, 18% of organic clicks go to the #1 position, 10% to the 2nd position and 7% of the 3rd position. So being up the top matters. A lot.
*Source: Google Jan 2021
But we don't just rely on Google.

We have over 10k unique users each month visiting the CX Central website which includes permanent links to the CX Industry Business Directory as well as regular advertising tiles running across the website.
Our Social Media presence has over 35k followers across newsletters, Facebook, LinkedIn, Twitter and Instagram along with our Youtube Channel and CX Hustle podcast.
We regularly advertise the CX Industry Business Directory across all the CX Group Australia Websites.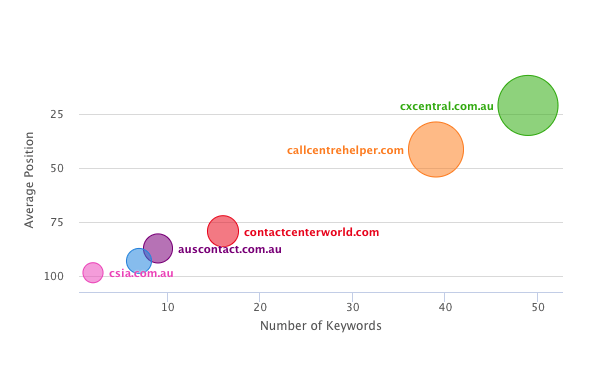 *Source: SEM Rush Jan 2021

Start getting leads for your business
With prices starting from just $47 AUD for a full 12 months, what are you waiting for?