ACXPA Business Directory Levels
To add your business to the Australian Customer Experience Professionals Association (ACXPA) Business Directory, we have 4 different levels available that you can purchase. Each level provides different benefits and they are displayed in the following order from top to bottom:
Premium Level
Advanced Level
Essential Level
Basic Level
As well as appearing higher in the directory, the higher the level, the more features are available to you including the ability to add your website URL, phone number, videos, brochures, contact forms etc as well as receiving more Search Tags (powerful tag to help your business be discovered more often) and lead forms, contact forms and more.
How the different levels appear in the directory
Immediately below in the yellow box are Search Tags - these help customers narrow the results displayed to make it easier for them to find the suppliers who specialise in a particular service or product. Underneath those are the 4 different levels you can purchase so you can see exactly how they would appear on the directory. Make sure you check out the 'Learn More' button that takes you to a dedicated company profile page!
Comparing the levels
Still not sure what level is right for you? You can compare the different inclusions for each level in the table below: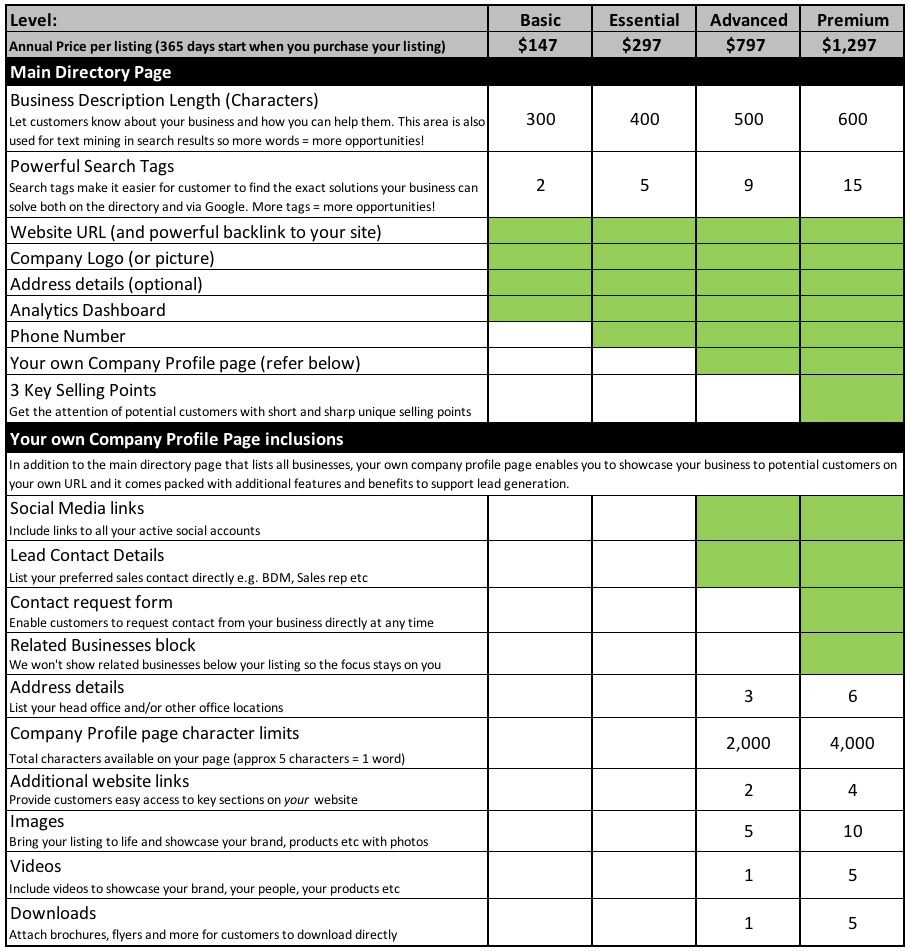 Great Value!

Don't waste thousands of dollars on LinkedIn, Google Adwords, Facebook or directories with fake reviews and bots, our listings are only a fraction of the price you would pay in advertising elsewhere and even better, you know that everyone who is browsing the CX Industry Business Directory is specifically looking for a solution and in the market to purchase.
There are no referral fees or commissions payable on any leads you receive from the directory - there is just one low annual fee and that's it!
Learn more about how to add your business or search our Frequently Asked Questions to learn more.
We first listed our business in the CX Industry Directory a couple of years ago and as a direct result, we've landed new business from SME's to large clients and even a few global companies so it's been a great investment for our business and we couldn't recommend Justin and the CX Industry Directory team highly enough!

Nell Sanderson
Creative Director
McGirvan Media
Purchase your listing now: